Techniques and Instrumentation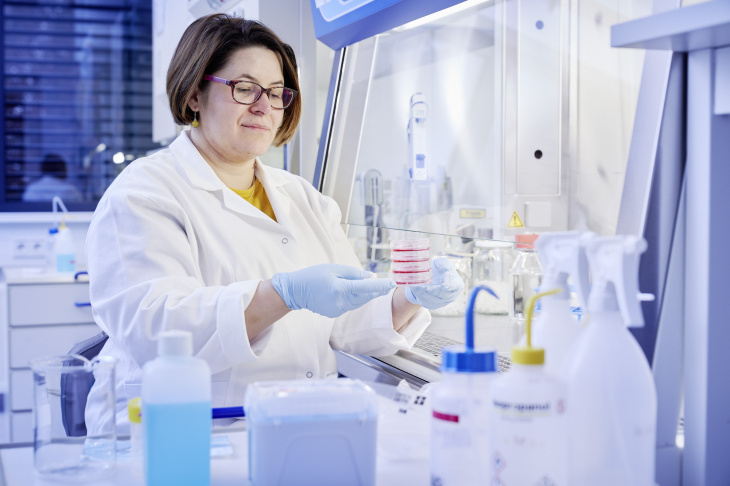 cell culture lab Geesthacht
The infrastructure reflects the interdiciplinary character of the department and combines the requirements of biological and material research. The laboratories in Geesthacht are classified for working under safety level 2 (S2) according to Biological Safety and S1 for reseach with genetically modified organsism (GMO).

Several different primary and secundary cell types are used for analysing cell-materíal interactions. Preferably human mesenchymal stem cells are cultured and differentiated into the desired cell line of the musculco-sceletal system.
In order to test the antibacterial properties of selected materials and material surface treatments, a set of gram-negative and gram-positive bacteria is available.
Selected components of the infrastructure
---
Cell culture safety cabinets and incubators

Cell counting and viablity by Roche Casy®cell counter and analyser

Bioreactor(s) and sensor

Flow cytometer S3e cell sorter (BioRad)

The cell response to material contact occurs at different level of biological organisation. Therefore, gene expression analyses are combined with proteomic studies and functional cell assays.
Selected components of the infrastructure
---
PCR (Eppendorf Mastercycler)

Realtime-PCR (BioRad C1000 Thermo Cycler CFX96, CFX Opus)

Fluorescence or luminescence measurements (PerkinElmer Multiplate-Reader Victor 3-V, Hitachi F 2500 Fluorescence Spectrophotometer)

NanoDrop (2000c Spectrophotometer)

Imaging of agarose- and polyacrylamide gels (BioRad ChemiDoc MP)

Blotting system (Life Technologies iBlot)

Multi-parameter analysis of selected proteins as indicators for cell responses by BioPlex (BioRad)

The fundamental assessment of cell responses is done by microscopy. The range of tools and applications covers Live/Dead staining for material screening up to specific staining of cell components provide insights into processes like apoptosis and adhesion.
Selected components of the infrastructure
---
Fluorescence microscopes (e.g. Nikon TI Eclipse)

Laser Scanning Confocal Microscopy (Leica TSC SP8)

Scanning Electron Microscope