Erica Lilleodden researches nanomechanics
HZG materials researcher receives prestigious DGM Award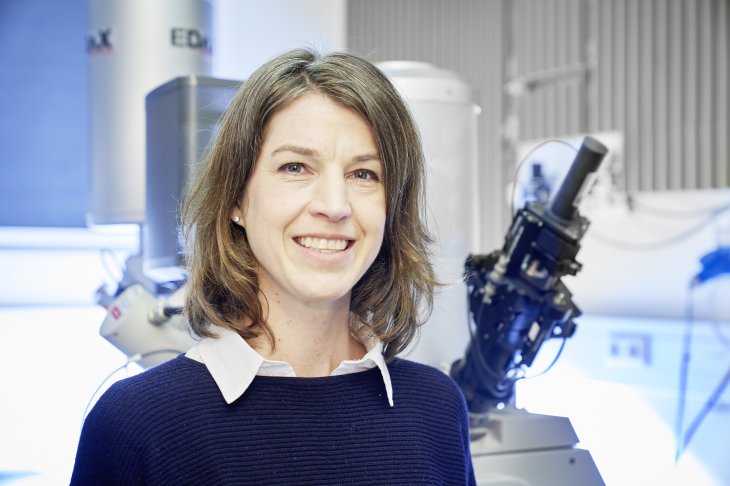 Erica Lilleodden researches nanomechanics. [Foto: HZG/Christian Schmid]
Professor Erica Thea Lilleodden PhD, the department lead on "Experimental material mechanics" at the Institute of Materials Research at the Helmholtz-Zentrum Geesthacht, Centre for Materials and Coastal Research (HZG), is to receive the DGM Prize from the German Society for Materials Science (DGM) for her outstanding scientific achievements in materials research.

Professor Erica Lilleodden will be presented with the prize by the DGM board in the course of the festivities celebrating "100 Years of the DGM" in Berlin on 27 November. The materials researcher said: "I am incredibly excited about this honour! But the prize is not for me alone. I see it as an award for our joint work here by our group at the Helmholtz-Zentrum Geesthacht."

Erica Lilleodden is one of the world's leading materials researchers in the field of nanomechanics. With the help of methods developed in part by her, she is researching the behaviour of mechanical materials on a micro-scale. To do so she cuts samples of the material at a length of 100 nanometres using a focused ion beam and then examines them in detail in the laboratory. In so doing, she is learning to understand precisely how the deformation mechanisms at the atomic level influence the properties of the eventual component.
Using a focused ion beam, samples of the material with a size of 100 nanometers are cut out and then examined. [Photo: HZG/Christian Schmid]
The technologies used in the examination of mechanical properties on the smallest length scale have undergone rapid development in recent years. It has now become possible to conduct mechanical tests directly related to local, microstructural observations, such as dislocation structure with electron microscopy. Erica Lilleodden has already dedicated herself to these new and exciting characterisation opportunities and has since made significant contributions to the continued development of these methods and their application on new materials systems.

Professor Norbert Huber PhD, Institute Director in the field of materials mechanics at the Helmholtz-Zentrum Geesthacht, has been working with Erica Lilleodden for more than ten years and has supported her scientific career. He declared: "I congratulate Erica Lilleodden on this important prize with which the DGM honours an exceptional research figure. I am very proud of what she has achieved. Her research has shaped nanomechanics and I am certain that in the future we can expect many more fundamental insights from the world of the microcosm and the economies of scale from her."
About:
---
Erica Lilleodden (46) studied material sciences at the University of Minnesota, USA, and latterly completed her doctoral research at Stanford University. As a scholarship student at the Alexander von Humboldt Foundation she worked at the then research centre in Karlsruhe in 2004. Since 2006 she has carried out her research at the Helmholtz-Zentrum Geesthacht and has been appointed professor at the Hamburg University of Technology. Since 2010 she has led the group "Experimental material mechanics" at the Institute of Materials Research at the Helmholtz-Zentrum Geesthacht. She lives with her family in Hamburg.

We profiled the scientist in our HZG magazine in2science:
Profile of Professor Lilleodden:
Contact:
---
Heidrun Hillen
Public relations
Phone: +49 (0) 4152 87-1648
E-mail contact
Helmholtz-Zentrum Geesthacht